September 2021
Sìthean Mòr (Grid reference: NM270235): In 1760 Bishop Pococke wrote to his sister that in the south-western part of Iona there is 'a fine small green hill, called Angel Hill, where they bring their Horses on the day of St. Michael and All Angels, and run races round it'. Also known as Sìthean Mòr 'Large (fairy) knoll', many names and traditions are associated with the hill in question. This includes the celebrations described above, which would have taken place during Michaelmas (29th September).
Do you want to learn more about Sìthean Mòr? Make sure to check back for our next two blogs where we will explore this place and its names in greater detail.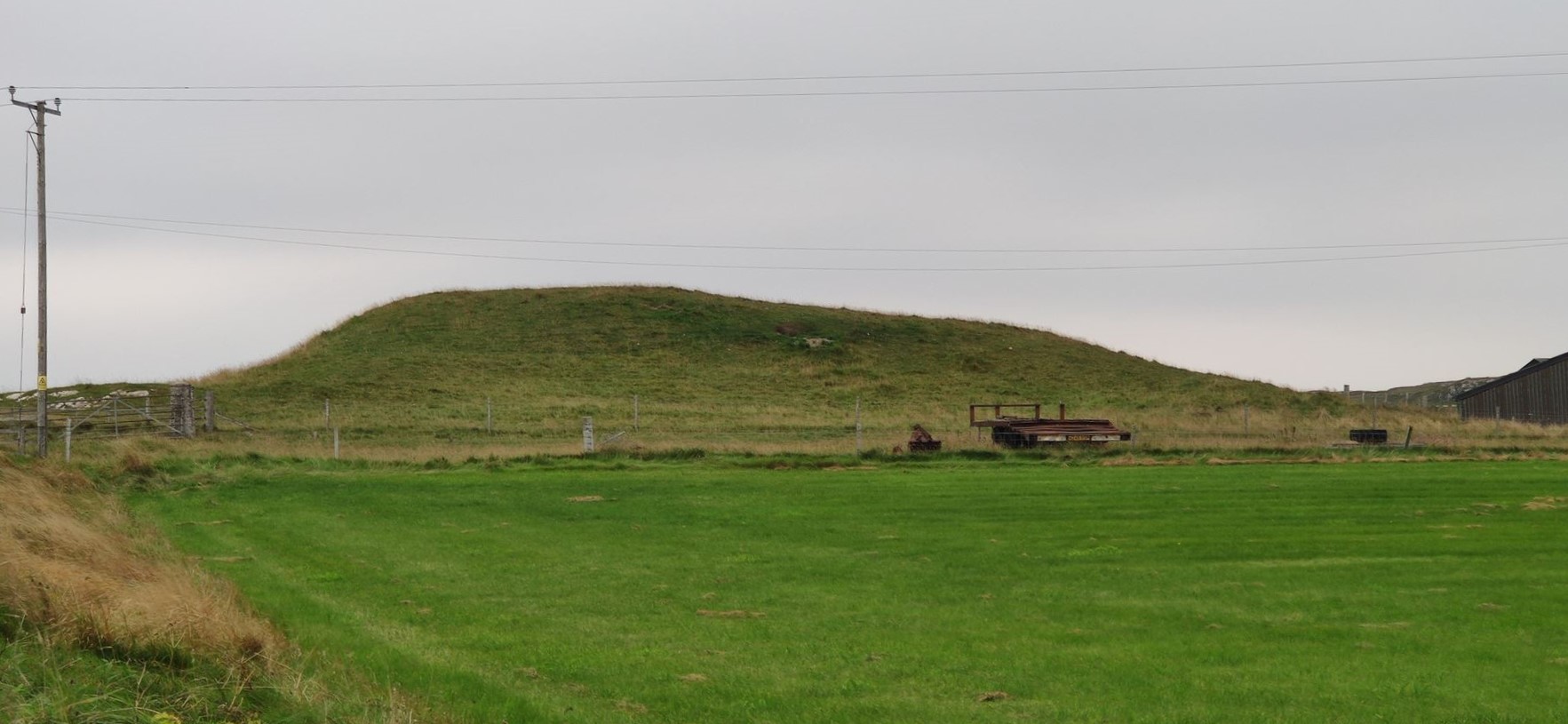 Image credit: Gilbert Márkus
August 2021
For this Name of the Month we have Liana Mhic Chullaich (Grid reference: NM283239) to mark the beginning of the harvest season. Gaelic liana 'meadow, plain' is frequently found in the names of fields on Iona, testimony to the island's comparatively good agricultural land. Mairi MacArthur notes a conversation with Calum Cameron, Iona, in 1985 which sheds light on the origin of this place-name: "Archie MacCulloch was the first to be put out of a croft, where Liana Mhic Chullaich is. The field ran down to his byre, at the back of Mary Ann's shop [Duart] and he also had grazing rights on Eilean na h-Aon Chaorach and Musimul."  No reason for the eviction is recalled but it must have happened before 1841, as no MacCulloch is listed in the Census that year.


Haymaking on Liana Mhic Chullaich around 1910, by then part of Maol farm tenanted by Hector MacNiven (centre). Image credit: Mairi MacArthur.
July 2021
There are many references to plants and flowers in Iona's place-names, so for this month, in the height of summer, we're taking a closer look at one such name. Located on the south-eastern hillside of Dùn I, Bruthach an Rois (grid reference NM284251) probably means 'Ascent of the rose(-bush)' as suggested by D. Munro Fraser. As is the case with many of the place-names investigated as part of this project, the Ritchies' map of Iona seems to be the only map to record this name.

When place-names contain references to flowers and other plants, the landscape can sometimes provide additional clues. If referring to a rose, it is in all likelihood the burnet rose (Gaelic Ròs Beag Bàn na h-Alba) which is well attested on Iona. It typically grows in rocky places and can be found above Sandeels Bay and Traighmore (Joyce Watson pers. comm.). Unfortunately, there are no traces of the flowers there now, but one possibility is that they grew here in the past, perhaps around the time when the Ritchie map was created.
The burnet rose features in several poems by prominent Scottish poets. One notable example is Hugh MacDiarmid's 'The Little White Rose':
The rose of all the world is not for me.
I want for my part
Only the little white rose of Scotland
That smells sharp and sweet – and breaks the heart.
Special thanks to Joyce Watson for surveying the area and providing further information about the burnet rose.
Image credit: ©Anne Burgess and licensed for reuse under this Creative Commons Licence.
June 2021
This month's name marks the feast day of Iona's founding saint, St Columba (9th June). St Columba's Shrine Chapel is one of the few place-names on the island to directly commemorate the saint.
The reference in Norse sagas to a 'Kolumkilla kirkju inni lítlu' (the little church of Colum Cille) probably refers to this structure. Read more about this name and Columba dedications on Iona in our recent blog post HERE).
May 2021

Crois Brendain or St Brendan's cross is included in William Reeves' 1857 list of Iona place-names, but by the first half of the 20th century it was marked as obsolete by D. Munro Fraser in his appendix to the Ritchies' Iona map (here spelled Crois Bhriannain). According to Reeves, the cross 'stood near Tobar Orain, a little way east of the Free Church Manse [now the St Columba Hotel]. There is no trace remaining.' If accurate, this means that the cross would have been located near the old Main Street in Baile Mòr, running from the Abbey to the Nunnery – perhaps it was originally a roadside cross.
The saint commemorated is likely St Brénainn m. Findloga whose feast day is 16 May. He also appears in many other Scottish place-names (for examples, see HERE).
April 2021

First in our 'Name of the Month' series is Uamh na Caisge (NM261217) found at the southern end of Iona in the sea cliffs to the west of Port an Fhir Bhreige. The name is translated by D. Munro Fraser and Reeves as 'Cave of Easter', but no associated traditions survive.
Do you know of other names for caves with Easter connections?