July 2022
In July 1772 Thomas Pennant visited Iona. A few years later he published what would become one of the most influential early modern accounts of the island.[1]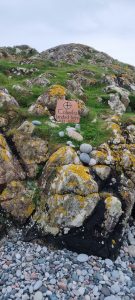 One of the places he visited is known in Gaelic as Port a' Churaich ('The port of the coracle'), usually known in English as St Columba's Bay (Grid reference: NM263216). Pennant is the earliest source to provide the English name 'Bay of St. Columba', describing the site as follows: 'the landing place of St. Columba; a small bay, with a pebbly beach, mixed with variety of pretty stones, […] On one side is shewn an oblong heap of earth, the supposed size of the  vessel that transported St. Columba and his twelve disciples from Ireland to this island' (Pennant 1774, p. 297). Port a' Churaich and St Columba's Bay are arguably two of the most well-known place-names on Iona due to their association with the arrival of St Columba.
The Gaelic name is recorded with many different spellings. Several sources (including the Ordnance Survey maps) have rendered the name as Port na Curaich following the modern gender (feminine) of the word curach 'coracle'. We have here opted for the spelling Port a' Churaich which better reflects local usage and seems to preserve an older masculine gender of the word. Some sources (see TAD track ID 17784 and MacCulloch 1819, p. 21) use the element curachan 'little coracle' with the Gaelic suffix –an (used to denote small size) added. In some accounts (see Nicolson here) the name of the boat in which St Columba travelled to Iona is referred to as An Liath Bhalaidh ('The grey bulwark'). All of these points are important in their own right and will be discussed in more detail in future project publications.
[1] For more information about Thomas Pennant and his travels, visit The Curious Travellers project website.
June 2022
In December last year we looked at Brown's Rock, named in commemoration of the shipwreck there in 1865. But this is not the only Iona place-name associated with a ship: Sgeir a' Mhountaineer (Grid Reference: NM298262) is the local name for a skerry directly south-east of Eilean Annraidh where a paddle-steamer, the Mountaineer, nearly came to grief in the mid-1800s. Dugald MacArthur (born 1910) used to hear older people talk of how the ship hit the rock, began to take on water but was not grounded. The captain carried on south at full speed and ran her into Port nam Mairtear and safety.
Launched in 1852, the first Mountaineer was one of a series of classic steam-ships which brought visitors from Oban to Iona and Staffa each summer.  She finally met her end off Lismore in 1889; a new ship, built in 1910, was also named the Mountaineer.  
Iona correspondents to the Oban Times and the North British Daily Mail regularly reported the first and last appearances of these ships each year, in early June and early October. They had become a signal for the turn of the seasons.
You can find pictures of the ship here: https://www.scottishshipwrecks.com/mountaineer/.
May 2022
Dùn Mhanannain (Grid Reference: NM266250) is a coastal feature on the west side of Iona. The name as it stands seems to evoke a figure from early Gaelic stories, Manannán mac Lír. He is usually described in short-hand as 'the god of the sea', but his character and the role he plays in early Gaelic tales is much more complex than that.[1] A big question is – what is he doing here on Iona, being commemorated in the landscape?
Before we try to answer that, it is worth wondering whether he is really there at all in the first place. The name first appears (as Dun Mhananain) in 1857 on the map and list drawn up by William Reeves (image above).
But not long after this the Ordnance Survey has a rather different name: Dun Manamin. You could argue that this is just someone's misreading of Reeves's map, but it is not a completely obvious misreading. On the other hand, it is not straightforwardly a representation of a Gaelic word either. The word it most resembles is meanmain ('spirit, boldness, bravery') as in the Gaelic term mac-meanmain, 'imagination'. This is pronounced something a bit like 'manamin'. So, could we imagine a landscape feature called 'the fort of spirit / bravery'? It sounds overly romantic, and not much of an improvement on the god of the sea! There is much to work out here: a fuller blog on this name will follow.
In the meantime, it seems likely that this may be an antiquarian name of some sort, whether 18th or 19th century in origin. Does anyone know anything further about this site? Are you aware of any traditions relating to it—or alternative names?
[1] For a full account of this character, see Charles W. MacQuarrie, The Biography of the Irish God of the Sea from The Voyage of Bran (700 A.D.) to Finnegan's Wake (1939) (Lampeter: Edwin Mellen Press, 2004).
April 2022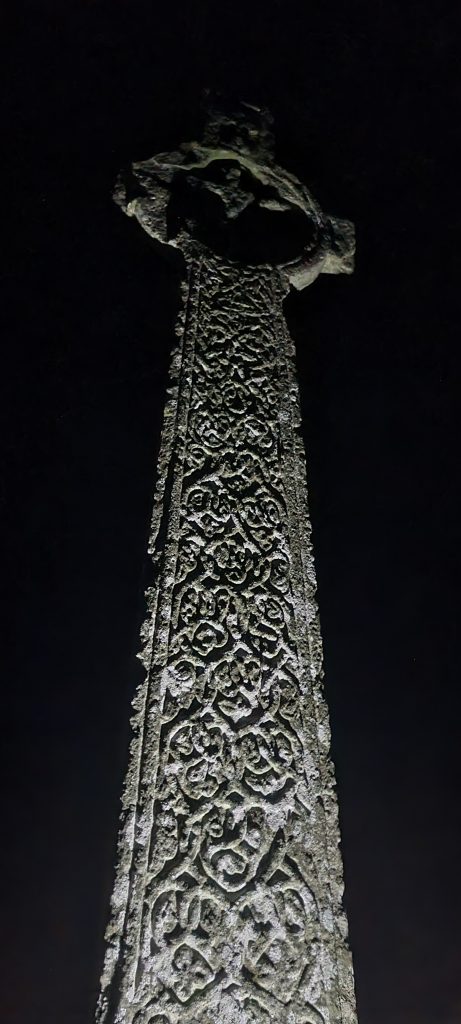 For April's Name of the Month feature we are looking at another one of Iona's many monuments (also see our May 2021 feature on Crois Brendain). Crois Mhic 'IllEathain, or MacLean's Cross in English (Grid Reference: NM 28544 24232), is a late 15th-century cross located on the road between the Nunnery and the Monastery. This location seems to originally have had three branching roads going in a southwardly direction, all still visible on the 1769 Douglas estate map. The name is first recorded in 1695 and likely commemorates the monument's patron, a MacLean of Duart or Lochbuie (Argyll vol. 4, p. 237). MacLeans were closely involved in the late medieval monastery, as both patrons and personnel.
The cross is frequently mentioned by early modern travellers visiting Iona, sometimes in the context of the oft-repeated (and likely vastly exaggerated) statement that Iona once had 300 or 360 crosses, most of which were destroyed after the Reformation. The original statement seems to have referred to 300 stones with inscriptions in the possession of Fraser, dean of the Isles 1633 to 1680. [1]
Pennant (1772, p. 283) writes that it was 'one of three hundred and sixty [crosses], that were standing in this island at the reformation, but immediately after were almost entirely demolished by order of a provincial assembly, held in the island.'
[1] MacArthur, E. M. 1995. Columba's island: Iona from past to present (Edinburgh), p. 20.
March 2022
An Earrann Mhòr 'The large share or portion' (Grid Reference: NM289249) refers to a field located east of Clachanach. Spring is the season for ploughing, sowing and planting. The images show An Earrann Mhòr being ploughed in the Spring of 1944.
As is often the case, many of the field-names of Iona have now fallen out of use and are not recorded on most published maps. Other examples of the element earrann on Iona are Earrann Nic Lachlainn,[1] Earrann Dhubh na Maol[2] and Earrann na Sgillinn,[3] all located on the island's arable land.
[1] Ritchie, A. & Ritchie, E. 1930. 'The map of Iona. I Chaluim – Chille' (Edinburgh: G. Stewart & Co. Ltd.), https://maps.nls.uk/counties/rec/6284.
[2] MacArthur, E. M. 1989. 'The Island of Iona: aspects of its social and economic history from 1750 to 1914 vol. 2' (Unpublished PhD Thesis: University of Edinburgh), p. 113.
[3] Ritchie & Ritchie, 1930.
February 2022
Recently featured in a film created by Niall O'Gallagher, Mhairi Killin & Michael Begg for the Spiorad an àite project (watch it HERE), we are taking a closer look at St Martin's Caves (Grid reference: NM258227) for our February Name of the Month.
Despite its name, St Martin's Caves refers to a passageway through the rock on Iona's south-western coast, accessible at low tide. Toponymically, it is quite an interesting name due to its multiple co-existing names. It is now generally referred to by its English name, St Martin's Caves, which is sometimes translated into Gaelic as Uamh Mhartainn (the form given on The Iona Community's map of Iona) or Uamhan Naoimh Mhàrtainn.
It is worth noting that Reeves (1857) and Ritchie (1930) give the Gaelic name Sloc Cheann an Amair 'gully at the head of the trough or channel' for the small valley that runs down to the pebbly beach where the caves are located.  Reeves does not mention the caves, but the Ritchie map places the English name 'St Martin's Caves' offshore, beside the headland (see image).
A local nickname for the caves is The Galleries, the result of sections of the passage forming smaller caves with openings on the landward side, like windows. In his memoir of family holidays on Iona since 1934, Stuart Steele recalls that Stanley Service, another regular visitor, 'led us to The Galleries, a popular name for the St Martin's Caves which are still quite difficult to find' (Memories of Iona, p.58, printed in 2019 for The Iona Heritage Centre).
It is possible that the association with the name Martin is connected to the nearby island Eilean Maol Mhartuinn (Grid reference: NM257227), a topic we will explore in more detail in an upcoming blog.
January 2022
Our name for this month is Shuna Cottage (Grid reference: NM285241) located on the village street in Baile Mòr. We're posting this name in January to commemorate Alec and Euphemia Ritchie, who built, lived in and named the cottage in 1899. Their work provides a cornerstone for anyone with an interest in Iona and its names. In January of 1941 Alec and Euphemia passed away at Shuna Cottage within two days of each other. You can read more about them and their work here.
This is our first name of the month to feature a house name. Shuna follows a well-established pattern of naming houses from existing names and places, in this instance the island of Shuna south of Oban (Grid reference: NM766082). We also know why the Ritchies named the cottage after the island. Euphemia spent her summers growing up there with her brothers and sister, Bessie, who died at the age of twelve. As a result, she remembered the island particularly fondly, later writing 'Shuna was never the same to us again and yet we loved it. I love our early island home more truly and deeply than any other place I have lived or am likely to live in.' (Find the quote and more information in MacArthur, Iona Celtic Art, 2003).
December 2021
Brown's Rock (Grid Reference: NM263236): On 31st December 1865, the ship Guy Mannering, sailing from New York to Liverpool, was blown off course and sighted off the Machair on the western side of Iona, where it met its end. The captain, Charles Brown, was the last to be brought ashore safely after five hours in the water. The people of Iona commemorated the event, and the ca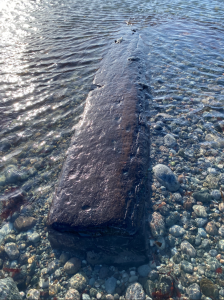 ptain, by naming the reef where the ship was wrecked "Brown's Rock".
The Receiver of Wrecks reported the following in January 1866: 'Finding the ship drifting to leeward among rocks, where it was not likely they could save themselves, the captain thought it advisable to run her into Machair bay on the west side of Iona. As soon as the ship touched the ground she immediately began to break up.'
The inset image was taken by Fiona Kyle at the Machair shoreline earlier this year, at low tide – an intriguing possibility is that the timber comes from the Guy Mannering.  Fiona's great-great-grandfather, John Campbell of Culdamh, was one of the islanders who risked their own lives to rescue 19 crew and passengers.
November 2021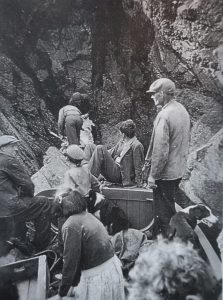 With the recent publication of an article on Viking Age Iona in Current Archaeology in mind (co-authored by two of our team members, Thomas Clancy & Katherine Forsyth, with Ewan Campbell & Adrián Maldonado), our November Name of the Month looks at one of Iona's Norse place-names: Soa (Grid reference: NM244192), recorded as Soa Island on Ordnance Survey maps (see image below).
As the article shows, the pervasive belief that Iona's importance became greatly diminished during the Viking Age is inherently problematic. Our hope is that further research into Iona's Norse place-names will shed further light on this.
Soa (also recorded as Soay) is a well-attested island name in Scotland meaning 'sheep island'. It represents Old Norse *Sauðey with sauðr 'sheep', reflecting its use for grazing purposes. This was noted by Dean Monro in 1549 who stated that the island is 'verey guid for sheepe'. In fact, Soa is still used for sheep grazing, reflecting a continued link between its Norse name and current use.
Image credit: Many thanks to John MacInnes for providing this image of Soa.
October 2021
Cnoc Mòr (Grid reference: NM282241), meaning 'Big hill' is a conspicuous feature which separates the monastic lands from the area to the west. It is as simple as names get, but it is an important feature. As you climb the hill you reach a rocky stretch of land (see image) with very few place-names recorded on published maps. Are you familiar with this area and know of other names on and around Cnoc Mòr? Let us know!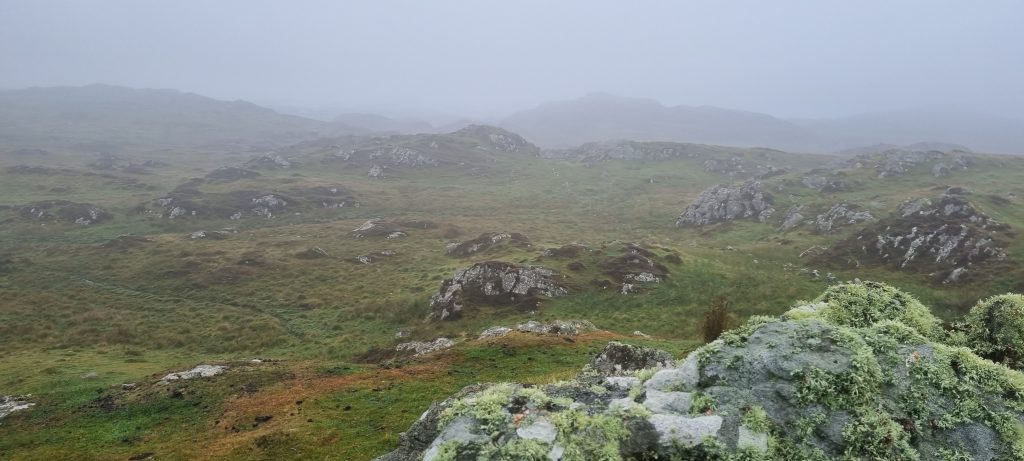 Image credit: Sofia Evemalm-Graham
September 2021
Sìthean Mòr (Grid reference: NM270235): In 1760 Bishop Pococke wrote to his sister that in the south-western part of Iona there is 'a fine small green hill, called Angel Hill, where they bring their Horses on the day of St. Michael and All Angels, and run races round it'. Also known as Sìthean Mòr 'Large (fairy) knoll', many names and traditions are associated with the hill in question. This includes the celebrations described above, which would have taken place during Michaelmas (29th September).
Do you want to learn more about Sìthean Mòr? Make sure to check back for our next two blogs where we will explore this place and its names in greater detail.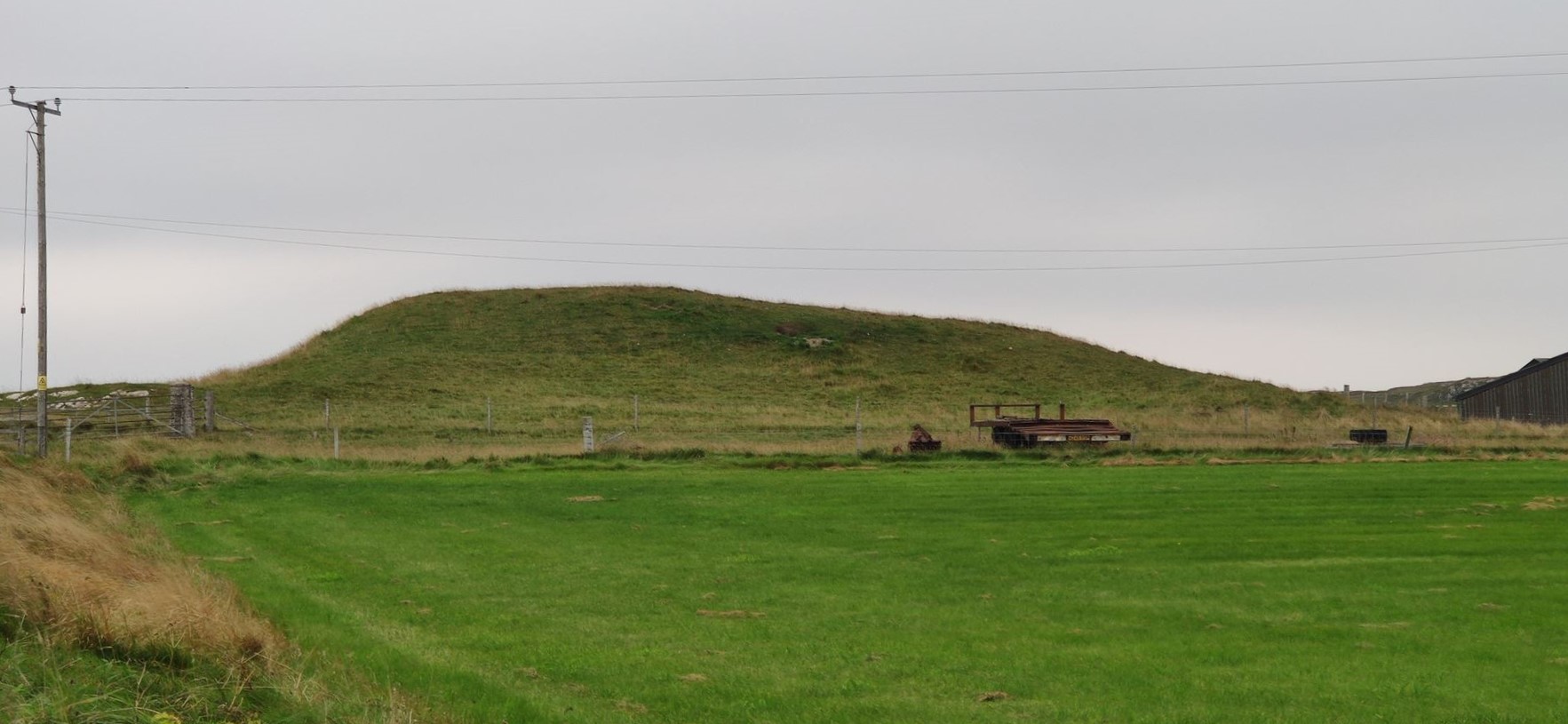 Image credit: Gilbert Márkus
August 2021
For this Name of the Month we have Liana Mhic Chullaich (Grid reference: NM283239) to mark the beginning of the harvest season. Gaelic liana 'meadow, plain' is frequently found in the names of fields on Iona, testimony to the island's comparatively good agricultural land. Mairi MacArthur notes a conversation with Calum Cameron, Iona, in 1985 which sheds light on the origin of this place-name: "Archie MacCulloch was the first to be put out of a croft, where Liana Mhic Chullaich is. The field ran down to his byre, at the back of Mary Ann's shop [Duart] and he also had grazing rights on Eilean na h-Aon Chaorach and Musimul."  No reason for the eviction is recalled but it must have happened before 1841, as no MacCulloch is listed in the Census that year.


Haymaking on Liana Mhic Chullaich around 1910, by then part of Maol farm tenanted by Hector MacNiven (centre). Image credit: Mairi MacArthur.
July 2021
There are many references to plants and flowers in Iona's place-names, so for this month, in the height of summer, we're taking a closer look at one such name. Located on the south-eastern hillside of Dùn I, Bruthach an Rois (grid reference NM284251) probably means 'Ascent of the rose(-bush)' as suggested by D. Munro Fraser. As is the case with many of the place-names investigated as part of this project, the Ritchies' map of Iona seems to be the only map to record this name.

When place-names contain references to flowers and other plants, the landscape can sometimes provide additional clues. If referring to a rose, it is in all likelihood the burnet rose (Gaelic Ròs Beag Bàn na h-Alba) which is well attested on Iona. It typically grows in rocky places and can be found above Sandeels Bay and Traighmore (Joyce Watson pers. comm.). Unfortunately, there are no traces of the flowers there now, but one possibility is that they grew here in the past, perhaps around the time when the Ritchie map was created.
The burnet rose features in several poems by prominent Scottish poets. One notable example is Hugh MacDiarmid's 'The Little White Rose':
The rose of all the world is not for me.
I want for my part
Only the little white rose of Scotland
That smells sharp and sweet – and breaks the heart.
Special thanks to Joyce Watson for surveying the area and providing further information about the burnet rose.
Image credit: ©Anne Burgess and licensed for reuse under this Creative Commons Licence.
June 2021
This month's name marks the feast day of Iona's founding saint, St Columba (9th June). St Columba's Shrine Chapel is one of the few place-names on the island to directly commemorate the saint.
The reference in Norse sagas to a 'Kolumkilla kirkju inni lítlu' (the little church of Colum Cille) probably refers to this structure. Read more about this name and Columba dedications on Iona in our recent blog post HERE).
May 2021

Crois Brendain or St Brendan's cross is included in William Reeves' 1857 list of Iona place-names, but by the first half of the 20th century it was marked as obsolete by D. Munro Fraser in his appendix to the Ritchies' Iona map (here spelled Crois Bhriannain). According to Reeves, the cross 'stood near Tobar Orain, a little way east of the Free Church Manse [now the St Columba Hotel]. There is no trace remaining.' If accurate, this means that the cross would have been located near the old Main Street in Baile Mòr, running from the Abbey to the Nunnery – perhaps it was originally a roadside cross.
The saint commemorated is likely St Brénainn m. Findloga whose feast day is 16 May. He also appears in many other Scottish place-names (for examples, see HERE).
April 2021

First in our 'Name of the Month' series is Uamh na Caisge (NM261217) found at the southern end of Iona in the sea cliffs to the west of Port an Fhir Bhreige. The name is translated by D. Munro Fraser and Reeves as 'Cave of Easter', but no associated traditions survive.
Do you know of other names for caves with Easter connections?