Welcome to the website for Iona's Namescape: Place-Names and their dynamics in Iona and its environs
Name of the month: September 2023
A newly released collection created by designers Maeve Gillies and Mhairi Killin features jewellery inspired by the legacy of the Ritchies. You can find their collection here: https://www.ionamyheart.com/. One of their pieces is named after a place on Iona which is frequently mentioned in our sources – Tobar na h-Aoise 'The well of age', located near the summit of Dùn Ì.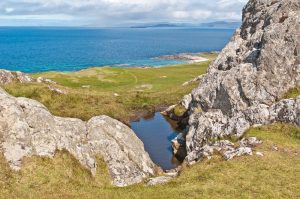 The name has been translated in many different ways and has been attached to multiple traditions from the 19th century onwards. Beginning with Reeves (1857), who gives a literal translation 'Well of age', by the 20th century authors like Fiona Macleod (William Sharp) (1912) and Shedden (1938) translated the name as 'The fountain of youth' and 'The wishing pool' respectively. Trenholme (1909) recounts one of the traditions connected to such translations: 'Local tradition says it was believed in of old as a magic well which could restore lost youth to a woman bathing face and hands in its waters before sunrise, the proper incantations, no doubt, being also necessary.'
This is a three-year project funded by the AHRC and based in Celtic & Gaelic at the University of Glasgow. The core objective of the project is a survey of the place-names of Iona and the nearby island of Staffa. This will be presented in the form of an interactive web resource in due course on this site (planned to be ready for 2022); and in the form of a volume in the Survey of Scottish Place-Name series.
We will also be researching the early records for the topography of Iona; the names of Iona's monuments; and the relationship between Iona and Mull. A key part of our research involves trying to understand the dynamism of names and naming in Iona, both over the centuries, and among the different constituent communities who live on and interact with the island in the present.
We are partnered with the two heritage bodies in whose care Iona and Staffa sit: the National Trust for Scotland and Historic Environment Scotland.
More detail about the project can be found here.
We will be producing regular blogs on our research which you can consult here.
This web resource is under construction and will be constantly updating as the project progresses.