Welcome to the website for Iona's Namescape: Place-Names and their dynamics in Iona and its environs.
Name of the month: December 2021
Brown's Rock (Grid Reference: NM263236): On 31st December 1865, the ship Guy Mannering, sailing from New York to Liverpool, was blown off course and sighted off the Machair on the western side of Iona, where it met its end. The captain, Charles Brown, was the last to be brought ashore safely after five hours in the water. The people of Iona commemorated the event, and the ca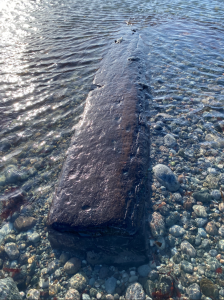 ptain, by naming the reef where the ship was wrecked "Brown's Rock".
The Receiver of Wrecks reported the following in January 1866: 'Finding the ship drifting to leeward among rocks, where it was not likely they could save themselves, the captain thought it advisable to run her into Machair bay on the west side of Iona. As soon as the ship touched the ground she immediately began to break up.'
The inset image was taken by Fiona Kyle at the Machair shoreline earlier this year, at low tide – an intriguing possibility is that the timber comes from the Guy Mannering.  Fiona's great-great-grandfather, John Campbell of Culdamh, was one of the islanders who risked their own lives to rescue 19 crew and passengers.
This is a three-year project funded by the AHRC and based in Celtic & Gaelic at the University of Glasgow. The core objective of the project is a survey of the place-names of Iona and the nearby island of Staffa. This will be presented in the form of an interactive web resource in due course on this site (planned to be ready for 2022); and in the form of a volume in the Survey of Scottish Place-Name series.
We will also be researching the early records for the topography of Iona; the names of Iona's monuments; and the relationship between Iona and Mull. A key part of our research involves trying to understand the dynamism of names and naming in Iona, both over the centuries, and among the different constituent communities who live on and interact with the island in the present.
We are partnered with the two heritage bodies in whose care Iona and Staffa sit: the National Trust for Scotland and Historic Environment Scotland.
More detail about the project can be found here.
We will be producing regular blogs on our research which you can consult here.
This web resource is under construction and will be constantly updating as the project progresses.