We are grateful to Alicia Hendrick for providing this guest blog sharing her work on Cobhain Cuildich and Cladh an Diseirt.
My name is Alicia Hendrick. I am a Creative Crofter[1] working from my studio overlooking Tobermory Bay on the Isle of Mull. This year I became one of the recipients of Duais Dìleab Chaluim Chille / The Colmcille Legacy Award which was set up to commemorate the life and cultural legacy of Colmcille throughout the Year of Colmcille, 1500. This award allowed me to spend time on Iona over the summer, making work in response to two significant sites – Cobhain Cuildich[2] and Cladh an Diseirt.
My initial intention was to base myself solely at Cobhain Cuildich (The Hermit's Cell). I was inspired by the legacy of Colmcille's life as a hermit, demonstrating the positives that can be gained from time spent in isolation to a lockdown-weary world. However, my good friend and fellow member of artists' collective 6°WEST, Mhairi Killin, directed me to Cladh an Diseirt / the Burial place of the Hermitage.

On visiting Cladh an Diseirt for the first time, I entered the site by the two stones at the gateway which led to a natural spring and a well-worn path by the reedbeds to Port an Diseirt. As I looked across the Sound of Iona, I saw the markers for the new cable line between Mull and Iona and realised that this could have been the crossing place from Uamh nam Marbh/ The Cave of the Dead at Tormore[3] to Iona. Over the years I have created several works inspired by the environs at Tormore including the Cave of the Dead (image B). Two strands of my work were now connected. Later I would create a collagraph looking back at Port an Diseirt from Tormore. (Image C).
I made initial drawings and gathered materials from the site – found elements, goose feathers and reeds. (Image D). On my next visit, I created a drawing of the view to the Abbey seen through the stones that mark the gateway to the site of Cladh an Diseirt which was later developed into the collagraph seen at the beginning of this blog. (Image E).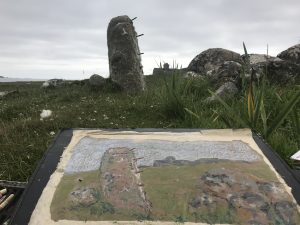 Standing on the shore of Port an Diseirt, I felt a connection with the land and nature in much the same way, I imagined, as anyone who had walked this path before me including Columba himself who could have drunk from this spring and gathered from this same spot, a landscape almost unchanged in 1500 years.
On my return to the site in early August with newly gifted Mull Oak Galls from an artist friend, I created oak gall ink and reed pens on-site and made drawings at Cladh an Diseirt and Cobhain Cuildich (Image F, G, H and I).
I also made use of the spring at Cladh an Diseirt and created a series of cyanotypes using the found elements gathered at the site. (Image J)
Using Iona beeswax gifted to me by Iona resident John Maclean, I prepared papers and made drawings at Cobhain Cuildich and sealed a drawing collaged with natural elements at Cladh an Diseirt. (Image K and L)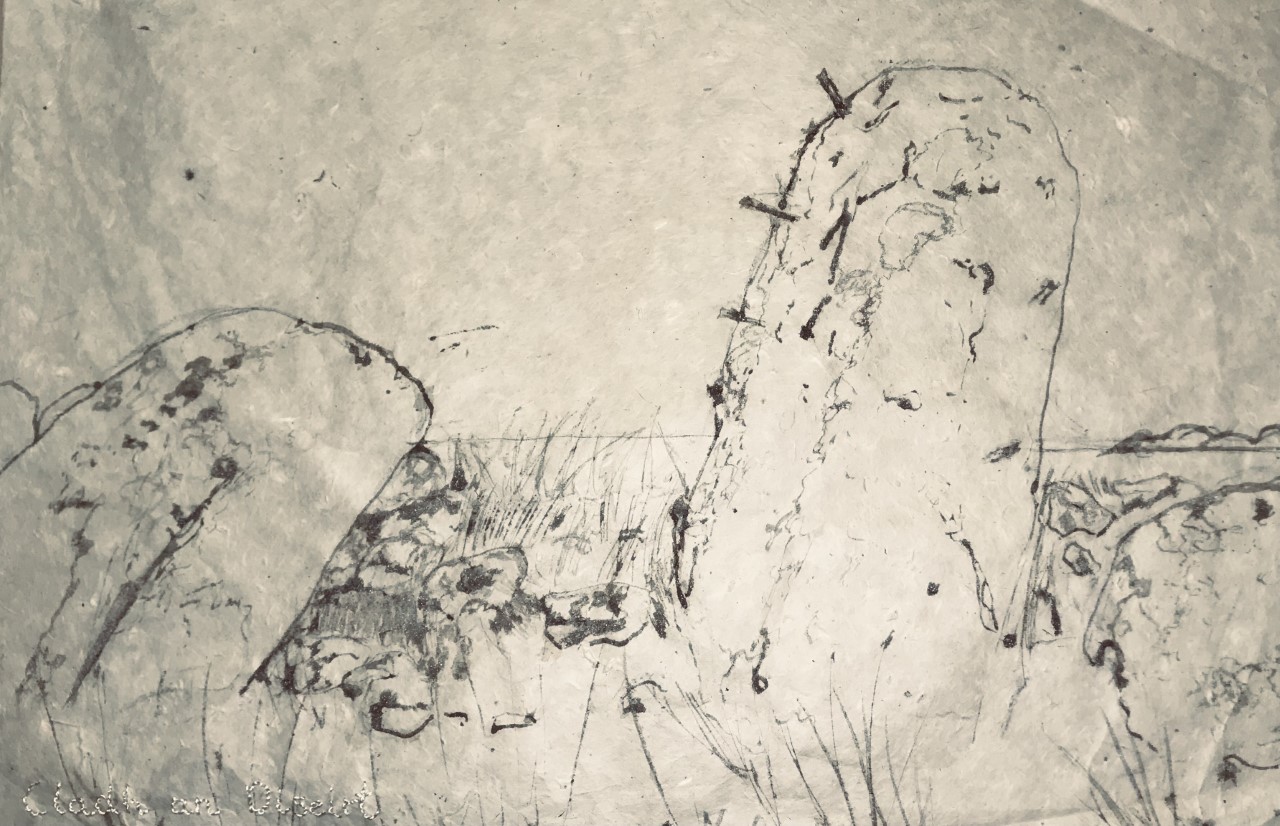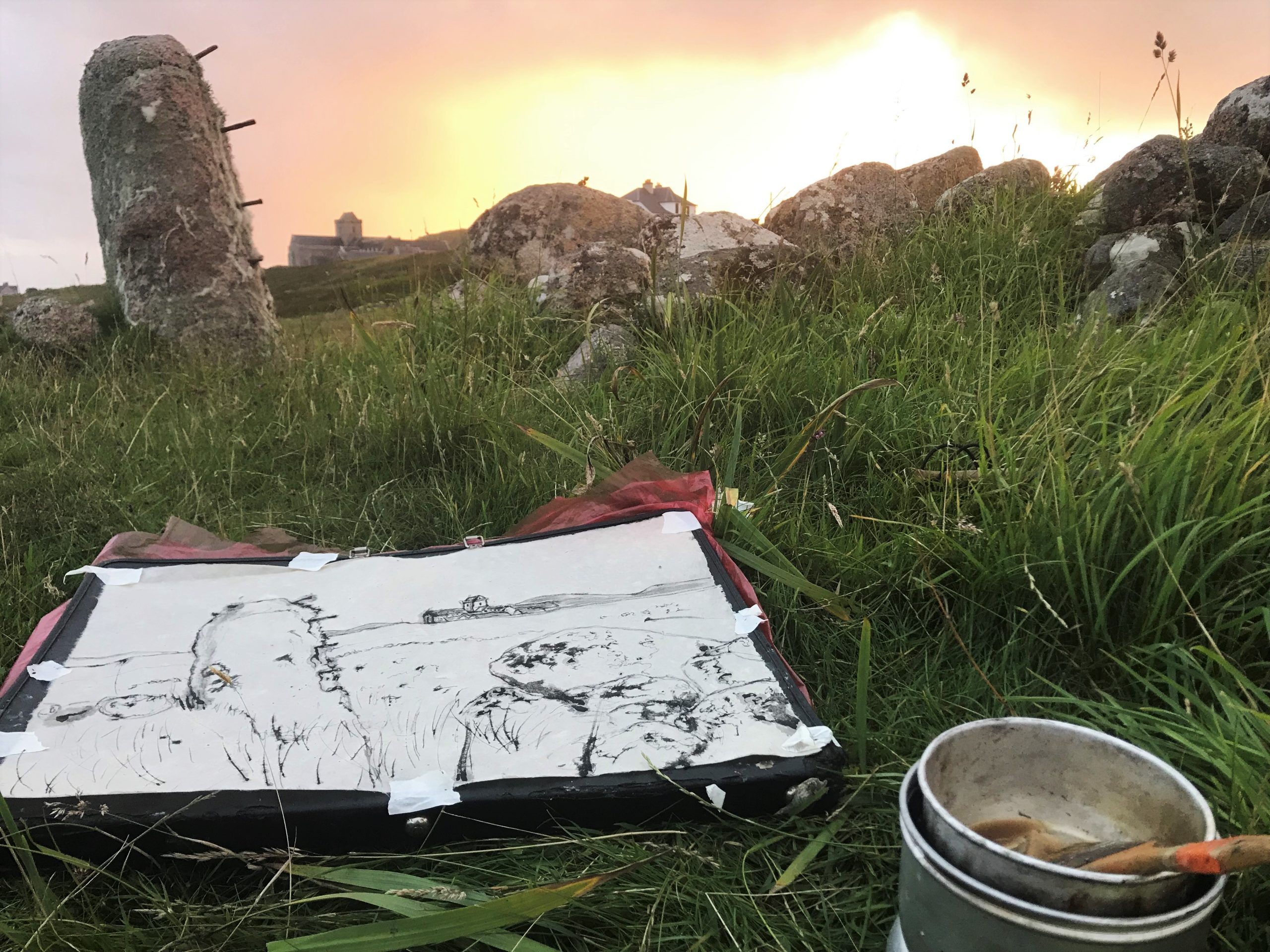 Back in my studio, I began to incorporate Gaelic text in the works. I am pleased to be collaborating with Gaelic scholar Alasdair Whyte as I continue with this element of my work. I've actually been using embroidered text in my work for some years using silk thread gifted to me from my Aunt Gabriel (Sister Gabriel of the Holy Ghost is a Carmelite nun in her nineties) who had used these threads in her work embroidering priest vestments. By using this thread, I hope to bring elements of the sacred to my work.
In the eighties when I visited Iona on my days off from working at Camas on Mull, I loved to spend time at the museum and was always intrigued by St Columba's Pillow. During this summer I read that this stone was found at Cladh an Diseirt and some thought it could have been the marker for St Columba's Grave. It is now housed in the side chapel in the Abbey. I attained special permission to make a drawing of the stone. (Image M)
When drawing at Cobhain Cuildich sitting aloft looking down at the site on a sprung heather bed I had the notion to create a piece of land art by covering the ground of Cobhain Cuildich with a bed of heather as a resting place.
On Dec 7th, 2021 (today at the time of posting) four images of my work created as part of Duais Dìleab Chaluim Chille / The Colmcille Legacy Award will be projected, along with other artists' work, at sites throughout Argyll and Bute as part of an Illuminations Event https://www.chartsargyllandisles.org/news/illuminations-bring-art-and-light-to-argyll-and-bute/
Thank you for inviting me to be a guest blogger. Grateful thanks to Kathleen O'Neill and James Coutts at CHARTS and to Bòrd na Gàidhlig for their support and encouragement through the award and to Mhairi Killin and Alasdair Whyte for their continued support.
[1] Creative Crofter – Crofters in the highlands and islands are small-scale farmers who often have several other jobs – I live in an island community and work across many creative disciplines. First and foremost, I'm an artist.   I am also a curator, theatre designer, coordinator for a local producers' market, I work in the local primary school and undertake numerous creative projects like developing the new Mull and Iona Arts Trail.
[2] Note from the Iona's Namescape team: read more about Cobhain Cuildich here: https://iona-placenames.glasgow.ac.uk/the-trouble-with-cobhain-cuildich/.
[3] Uamh nam Marbh is a small cave near the granite outcrop of Tormore where it is said bodies were kept before being taken to Iona for burial.